A Change in The Weather
Bald Rock in Sapphire, NC is a beautiful development. My wife and I are staying on top of the mountain there this week. The views are endless and it's exciting to see the change in the weather, as seen in the photograph above from the porch. However, the weather is not the only change. Real Estate in Highlands and Cashiers area is seeing remarkable change. This is just spring. What does this summer hold for real estate sales in the area?
Single Family Home Sales Statistics
Land Sales Statistics
Overall Market View
DOWNLOAD FREE SEARCH APP HERE
TO KEEP UP WITH THE MARKET
Highlands/Cashiers Real Estate Continues the Climb!
The real estate market for Highlands/Cashiers area has had a significant slump for several years. Especially has this been the case since the "bubble burst" in 2007/2008. The recent trend is building and looking favorable. Homes are selling, inventory is at its lowest in several years and the Days On Market are being reduced! What has been the cause for this and what can we expect? Let's take these one at a time.
Homes Selling: Basically, this has to do with the current economy and confidence in Buyers. There are several factors that come into play here.
While homes have been selling around the country and the market has been doing very well in many surrounding areas, this market is totally different. The majority of homes here are second homes. often considered a luxury item.  Kind of like buying a boat, the income that purchases such items is often considered, "disposable" income. Let's face it, not many of us have that kind of money lying around.  None of us want to "lose" any money, so purchases are made with the intent of the possibility to recoup what we invested. However, there is the cost of maintenance. Like the boat, those funds are seldom, if ever recovered. We would still hope the property holds some value.
As far as the economy goes, this can be the difference between a recession and a depression. I had it described to me this way:
Recession – This is when your buddy loses their job.
Depression – This is when you lose your job.
With the upswing in the current economy, which has had a tendency to hold, overall, this has helped home buyers to regain some confidence. As a result, homes are selling. Now, to our second point;
Home Inventory: This has to do with the total number of homes on the market at any given time. Because home sales in this area are about as seasonal as the weather, we have a great fluctuation between the summer months and the winter months. As a result, it can be better to use an "average" of home inventory.
In the past, the average inventory could be running as high as 1,400 down to about 1,200 homes on the market. We would typically see those numbers drop to around 900 or so in the winter months, as many home owners would simply take their properties off market during the slower selling periods, so as to reduce their Days On Market.
The last few months have seen the inventory in the 800+ range of units for sale. This drop has brought our average inventory to just over 1,000 homes. This is the lowest it's been in years. A reduction in inventory means less homes for sale. Less homes for sale means fewer Days On Market, our next point of discussion.
Days On Market: Many people look at this number and assume that if a home has a lot of Days On Market (DOM), there must be some reason it's not selling. In Metro areas where a home goes on the market and has a buyer withing a week or two, this could be true. However, this is not that market.
A Seller may list their home in January. Through our office, this allows the home to be syndicated to about 900 web sites, including Zillow, REALTOR.com, Trulia and many others, as well as videos we create to be advertised on YouTube and many other social media sites. However, most Buyers do not get up here until the summer. As a result, some listings can easily accumulate 60, 90 or 120 DOM. Still, if these homes are not listed, Buyers don't see them. They come to the area with a list of homes to give a Broker. They've already seen these homes online and ask to see them, that is, the ones that have been listed.
We get calls year round from Buyers. If a home meets their needs we tell them NOW is the time to come see the home, even if it is during the winter. Serious Buyers will make the trip and they'll purchase during that visit. Some of the most successful sales for my Seller clients have been through winter months. The reason is that as inventory rises during the summer months there is more substitution. While the current inventory is around the 800+ mark, it is expected to be well over 1,000 again, very soon.
Long story short, DOM can mean very little for this market.
Single Family Home Sales Statistics
Land Sales Statistics
Overall Market View
What Can We Expect? Unknown to many, Brokers do not have a Crystal Ball, Special Powers nor the abilities to see into the future. What we can do is see past and current trends. We see what Buyers are willing to spend, which is what really drives the market. Sellers know what they paid and how much they've put into their home. However, like that boat mentioned earlier, seldom do we get back everything we've put into it.
Now let's be serious. We know that a boat depreciates. However, homes and land never lose their value, right? Ask anyone that bought anywhere from 2004 – 2008 and you'll see that's not a true statement. In fact, most tax assessments have been dramatically reduced in this area. Most of these did not take affect around here until 2015 and 2016. Why so much later? It has to do with NC requirements for tax assessment. Many are not aware of this and it has cost some, due to a lack of understanding about NC Real Estate.
Remember, the Brokers primary responsibility is to the client. Yes, there are the salesmen out there. Still, you want to find the broker that's straight up with you and will give you the information you need. If they're trying to "win" your listing or sell you a home, well, you decide. Your broker should be your best source for accurate real estate information. They work for YOUR benefit, not their own.
April 2018 Statistics for the HCBOR:
RECENT HOME SALES:
Total homes listed in Highlands/Cashiers MLS: 821 This is a slight increase. However, the increase is expected over the next few months.
Homes Sold This Month: 54 This is a 58% increase over April of 2017.  While 2017 and 2016 sales ran somewhat parallel, the trend so far has been well above those stats.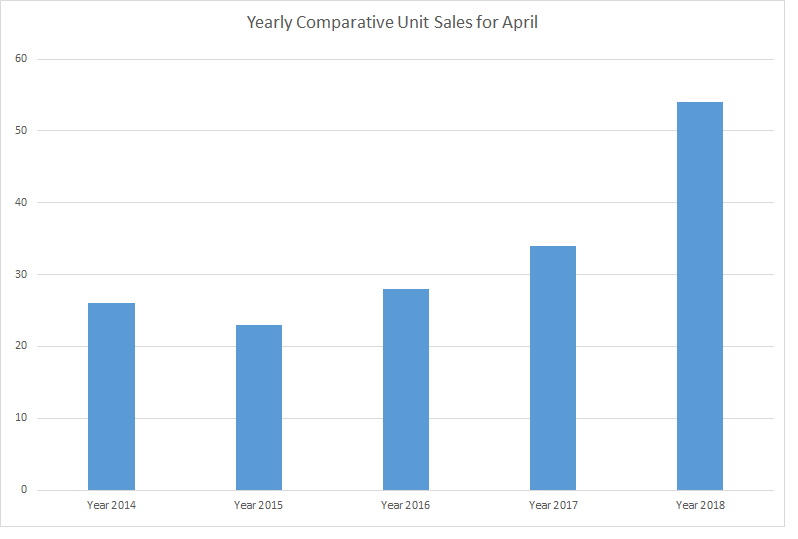 Average Unit Sales per Month/1 Year Average: 61- This is on the increase, thanks to sales for the winter months being at highest level in years.
YOY Inventory: 13 months. This is holding steady with  the March report, which was a significant drop.  While this is certainly good news, one needs to keep in mind that "healthy" inventories are considered to be around 6 months for most markets.
Average DOM: 255 This was a nearly 40% drop compared to March. While this number is certainly significant, recent rule changes to the Highlands/Cashiers Board Of Realtors may account for much of this change.
Average DOM (YOY): 352  This "yearly" average is better indicator of the real estate market.
Median Sales Price: $392,000. For the past several months, with only a couple of exceptions, this margin has been well into the $300,000 to $400,000 range. This indicates where the middle of the market has been located and has shown considerable strength.
Average List/Sell Ratio: 92.44% – Quite simply this shows the market to be a little high for Listing Price. This is not encouraging to Buyers. Most are finding the market to be too high. High priced listings may tend to be on the market longer. It may also discourage potential buyers from viewing such properties.
Synopsis: There are plenty of indicators showing the Highlands/Cashiers market area to be on the increase. While this is good for Sellers, there are other indicators that show Listings to be overpriced. Don't expect a "bidding war" to be happening any time soon. Nearby markets, like Franklin, have seen 98-100% of asking price with bidding wars.
RECENT LAND SALES



Land Units Sold: 12. Now for the rest of the story. Land is not any where near home sales in the Highlands/Cashiers area.
Total listed in all MLS: 1029
Inventory: 85 months (7+ years). In other words, if we didn't get any more land listings, it would take us 7+ years to sell what we have.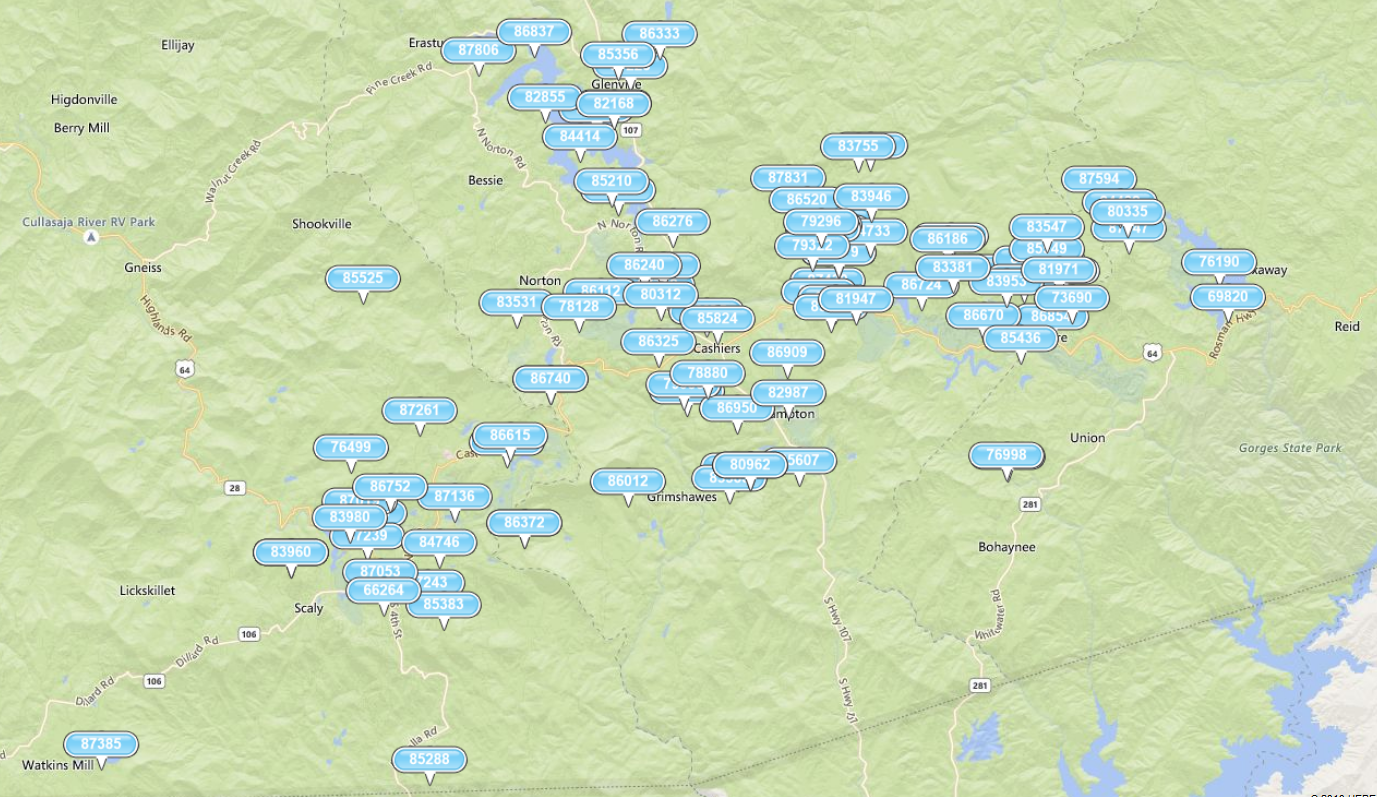 Synopsis: As the above map shows, land sales are typically in club areas, near Lake Glenville or near town. Outlying properties are much harder to sell. There is no demand for land.

Overall Market View:
38% of home sales ranged from $200,000 to $499,999.
18% of home sales ranged from $500,000 – $749,999.
11% of home sales ranged from $750,000 – $1,000,000.
11% of sales were above $1,000,000.
While these numbers remained relatively the same, the biggest sales were from $500,000-$700,000, with the median at $392.000.
BUYERS: Inventory is dropping, which means there are less homes to choose from. Although there is an expected increase in the coming months, these may not last. In the past, Buyers have been able to look at homes and expect to take their time to make an offer. With current inventory moving faster, one should be ready to make an offer on a home they find appealing.
SELLERS: Lots of positive news coming your way. While this can be very motivating in hopes to see something happen in 2018, one should not get over anxious and make hasty decisions. It may be good to get with your broker and revisit your market price and strategy. Come up with a plan that will help you accomplish your goals and take advantage of this market.
CONCLUSION: Everyone gets excited when the market is showing positive signs. However, being over anxious can prove detrimental to both Buyers and Sellers. Talk with your Broker. They should not be trying to sell you anything. The home should sell itself. They also should not be trying to "buy" your listing by giving unrealistic numbers or numbers they think you want to hear. I good Comparative Market Analysis (CMA) will not be biased. Everything should be clearly discernible so you can make a well informed decision. Buyers may want to take advantage of current pricing and be ready to act upon properties of interest.
---
Selling Homes in Highlands, Cashiers, Glenville and Sapphire Area, as well as Franklin and Sylva. Contact Listing Agent Here.
DISCLAIMER
This material is based upon work performed by Rick Creel, Broker. It is intended to provide an overall view of the
real estate market for Highlands, Cashiers
and surrounding areas of the Highlands/Cashiers Board of Realtors. It is composed of data from the HCBOR and NAR for this MLS only. Any opinions, findings, conclusions or recommendations are those of the author and do not reflect the views of any others. There can be no assurance that this information is complete, accurate, or includes all available market data; all information is subject to change. Users of this information are advised to consult with their financial experts about the interpretation and usefulness of information contained herein. For more information or to consider
listing your home with an agent or buying a home
CLICK HERE
.