2018 Real Estate Market on The Rise
January 2018 showed a 74% increase in the number of homes sold, compared with January of 2017.  The 2017 year closed with an overall increase of 11.7% more homes sold than 2016. This was also reflected in the total dollar volume increase. Is this a start of things to come for 2018? This would certainly mean good news for Sellers.
Single Family Home Sales Statistics
Land Sales Statistics
Overall Market View
DOWNLOAD FREE SEARCH APP HERE
TO KEEP UP WITH THE MARKET
2018 Real Estate Holds Promise
While it is true that real estate sales in Highlands and Cashiers area do slow down, seeing a 74% jump in home sales is nothing to take to lightly. In fact, the January sales of homes has shown a steady increase over the last few years.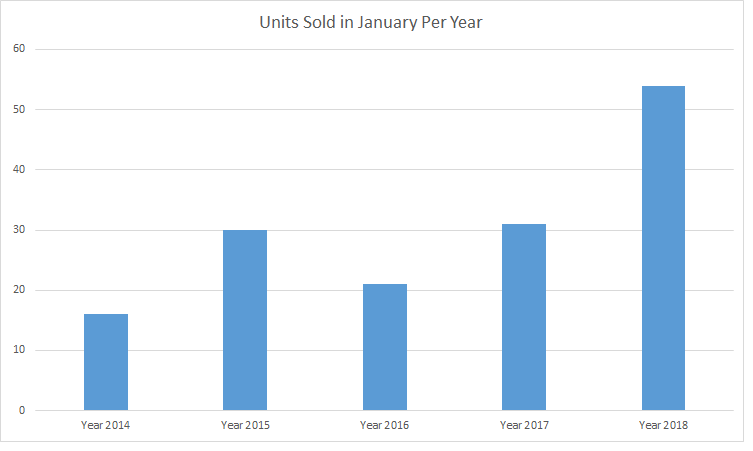 While many feel that few homes are sold in the winter months, a more accurate statement would be that "less" homes are sold during the winter. However, for this broker, the sales never stop. Being a full time, year round broker has helped this agent to be among the top selling agents for winter months. It gives my Sellers the "edge" when many homes come off the market, meaning less competition for Sellers.
For buyers, this can mean they have fewer homes to view, at least online. However, as a Buyers Agent, there are resources that I can use to see if some of these homes that have been removed are still available. Just because a Buyer doesn't see it doesn't mean it's still not available.
Highlands and Cashiers area real estate is quite different than most regions. You need an agent that really knows this market and its dynamics to help you sell or find your home. One of the first things that visitors find is, it's different in the mountains.
Janaury 2018 Statistics for the HCBOR:
RECENT HOME SALES:
Total homes listed in Highlands/Cashiers MLS: 886 This is about the lowest the inventory is expected to go.
Homes Sold This Month: 51
As the graph of previous years show, January is about the slowest month in sales. Still, realizing the difference between the time of offer and closing, most of January's closings most likely went under contract in Nov/Dec., during the holiday's. Buyers are already looking and this Broker has had offers come across this desk, as well as made multiple closings.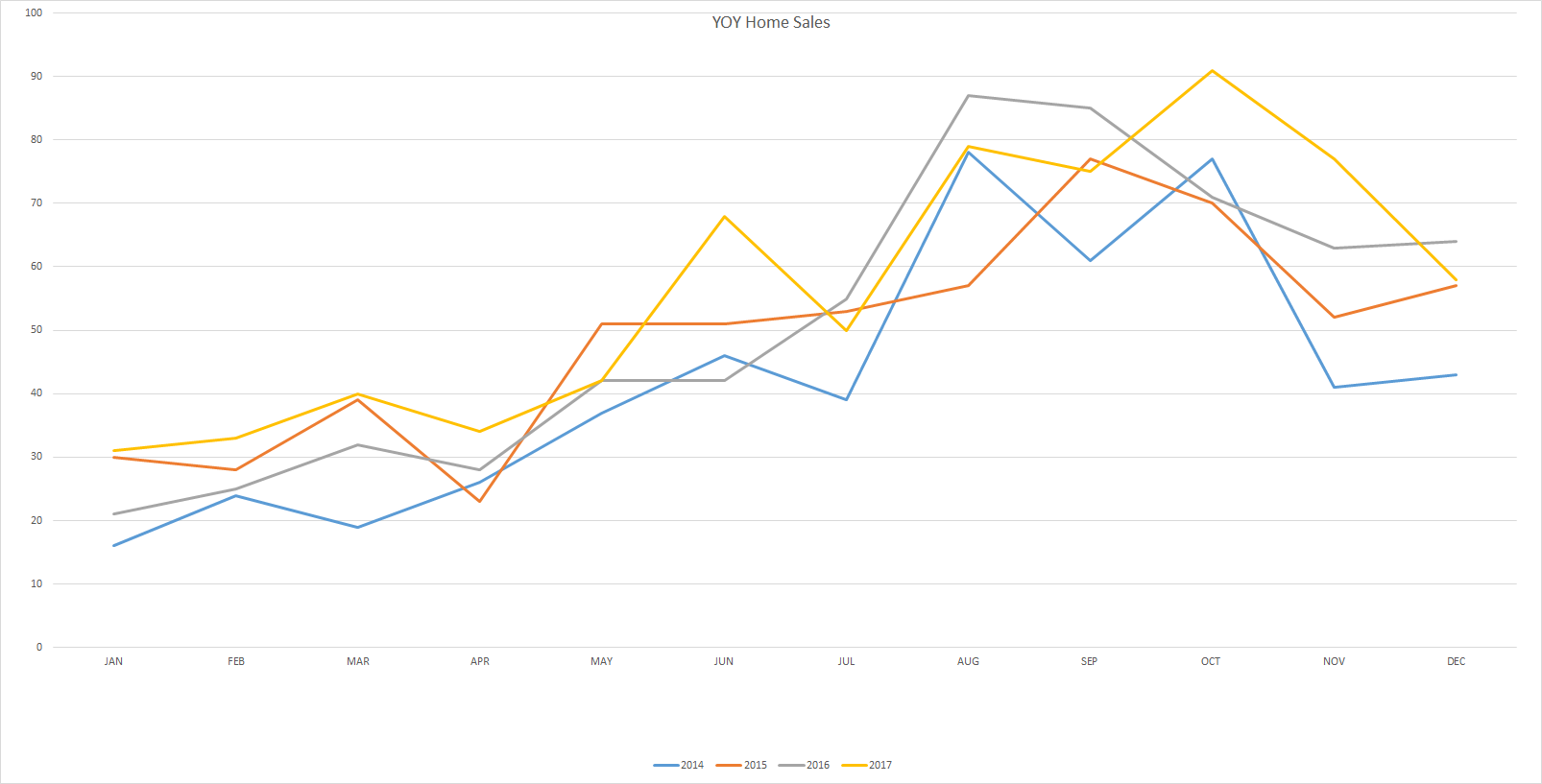 The rise in sales has already begun for this new year. There will be an expected overall rise in home sales for the next several months. Sellers need to be on the market now to take advantage of this increase.
Average Unit Sales per Month/1 Year Average: 58 – This number rose given strong numbers for January. As the coming months typically show increase, this number is expected to rise.
YOY Inventory: 15 months – This is  an increase in inventory. Increase in inventory is expected over the next several months. As inventory increases, Sellers will have more properties to compete against. The sooner one is on the market, the better opportunity they may have for a sell.
Average DOM: 355 This is typical in that there is a huge inventory.  Inventories in strong markets are around 6 months. Properties that are priced high will tend to have a higher DOM. Seller's must price according to what Buyer's are willing to pay. Brokers may tend to offer Listing at a higher price in order to get Sellers to list with them. However, this methodology does not bode well. Make sure your Broker is firm with you and really understands this market.
Average DOM (YOY): 376 This number is showing another, overall decline. As sales start to increase, this number will hopefully continue to fall. A reduction in inventory also assists in helping this number to fall.
Median Sales Price: $342,500 . Many do not understand the difference between "average" and "median." Ask your broker. If he can't explain clearly, you may want to consider your options. The median is actually a better indicator as to where the heart of the market lies. It helps brokers and Sellers to see the opportunities they have to sell.
Average List/Sell Ratio: 91.41% – This number continues to show that nearly all properties are overpriced. Until Brokers can convince Sellers to see the need to lower prices on their homes, this market will continue to be sluggish. DOM will continue to be high as Buyers do not see the same value. There may be very little competition for homes.
Synopsis: While there is good promise in the overall market, Sellers need to understand that this is still not a "good" market. There is more activity, but Buyer's are still finding most all properties to be overpriced. Pricing is not attractive to most Buyer's.
RECENT LAND SALES



Land Units Sold: 19. This number matches sales for January of 2015. 2016 had actually shown a decline in land sales for January. There continues to be no real demand for land.
Total listed in all MLS: 999
Inventory: 60months (5 years).
Synopsis: It's easier to buy a home than to incur the cost of developing land and then building. Until the inventory of homes is dramatically reduced and home prices begin to rise, it is doubtful there will be much a a resurgence in land sales. The major land sales are those that are either priced extremely low, have fantastic features (such as views, etc) or have amenities (such as in clubs).
Overall Market View:
49% of home sales ranged from $200,000 to $499,999.
12% of home sales ranged from $500,000 – $749,999.
8% of home sales ranged from $750,000 – $1,000,000.
12% of sales were above $1,000,000.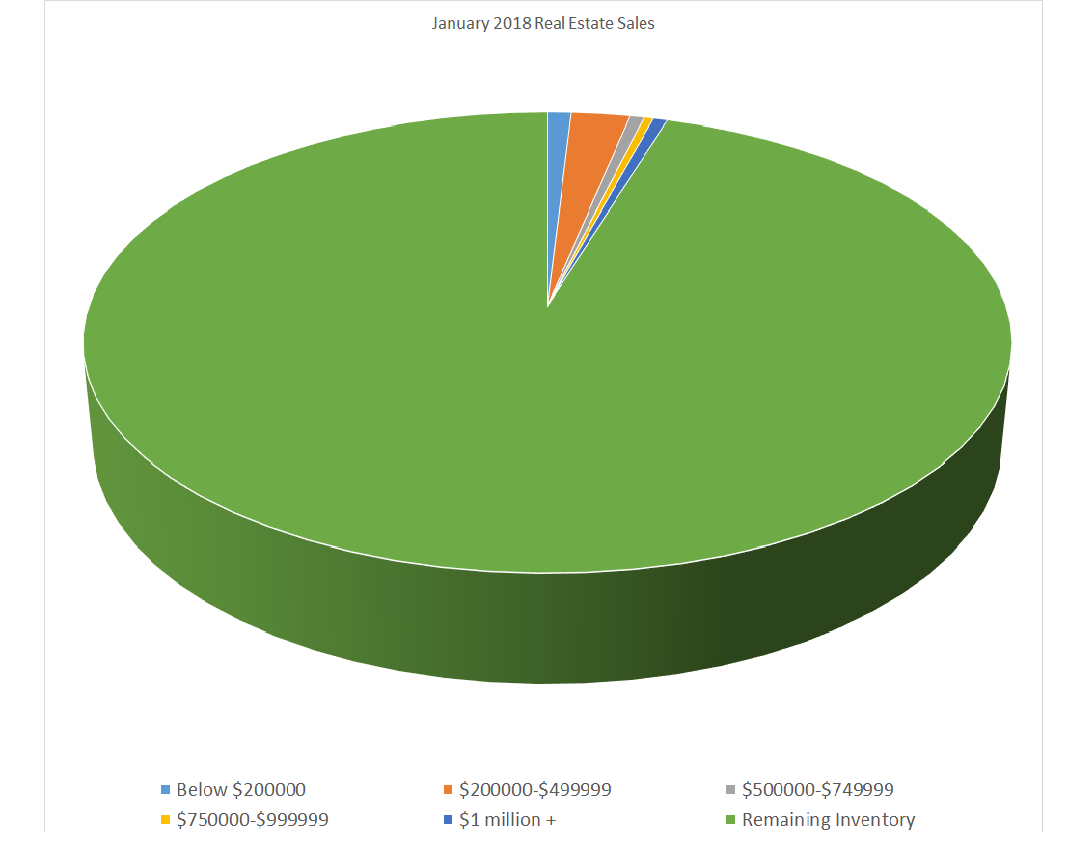 The most homes sold in any price range were 10. That was for the $400,000 to $500,000 price range. This is the second month in a row that homes in this price range outsold all others.
BUYERS: The market is showing overall increase. As this trend may continue, properties values may start to increase. Although, it may be premature to expect any real increases. None the less, the opportunity to buy at current prices may not last for long.
SELLERS: The increase is good news. Still, with the List to Sell Ration being so high, one should not anticipate increase price. If you are priced well, you should be getting some activity in showings. Still, as the majority of homes appear to be overpriced, work with your broker to see what may be an appropriate price for your home
CONCLUSION:  The 2108 Selling season my be our best in years! Buyers are starting to return to buying second/vacation homes. This is evidence of confidence in the economy, to some extent. The market is stronger in this area, but still not overwhelming.
---
Selling Homes in Highlands, Cashiers, Glenville and Sapphire Area, as well as Franklin and Sylva.
[contact-form][contact-field label='Name' type='name' required='1'/][contact-field label='Email' type='email' required='1'/][contact-field label='Phone' type='text'/][contact-field label='Comment' type='textarea' required='1'/][/contact-form]
DISCLAIMER
This material is based upon work performed by Rick Creel, Broker. It is intended to provide an overall view of the
real estate market for Highlands, Cashiers
and surrounding areas of the Highlands/Cashiers Board of Realtors. It is composed of data from the HCBOR and NAR for this MLS only. Any opinions, findings, conclusions or recommendations are those of the author and do not reflect the views of any others. There can be no assurance that this information is complete, accurate, or includes all available market data; all information is subject to change. Users of this information are advised to consult with their financial experts about the interpretation and usefulness of information contained herein. It is unlawful to duplicate or distribute the information contained in these reports. For more information or to consider
listing your home with an agent or buying a home
CLICK HERE
.
Save
Save
Save
Save