Change is Coming, Fast!
We are definitely enjoying the warmer climate in the mountains. Tree's are budding, bluets are showing, nice breezes, and people are getting outside. It seems the worst is behind us. The real estate market in Highlands/Cashiers is seeing a great change as well.  Will it get as hot as our Summer Temps?
Single Family Home Sales Statistics
Land Sales Statistics
Overall Market View
DOWNLOAD FREE SEARCH APP HERE
TO KEEP UP WITH THE MARKET
March Real Estate Market – Highlands/Cashiers Area
So far for 2018, the real estate market is doing the best this broker has seen in years. Not only are more homes being sold each month, but the average sale price and the median sales price have seen a great increase. More homes are moving and people are spending more.
We have long been in a Buyers Market in Highlands and Cashiers area. Even homes around Lake Glenville had not been getting the prices they once demanded. However, because there are fewer homes available on the Lake, these have held some of their pricing to some extent.
The inventory of homes has also been very high in past years. As many of these listings may be withdrawn for the winter months, many will return in the spring months. Although our current inventory is somewhat lower than the season highs, we still have over 800 homes on the market.
It has been noted that some of the homes expected to come back onto the market have not. Perhaps they're still waiting for the influx of visitors? However, we have seen considerable interest in buyers for 2018. Hattler Properties has sold several homes and the trend, at present, is we are having many walk-ins, phone calls and requests for more information.
All in all, 2018 may be a Banner Year for Highlands and Cashiers real estate.
March 2018 Statistics for the HCBOR:
RECENT HOME SALES:
Total homes listed in Highlands/Cashiers MLS: 804 This appears to be the lowest number we've had in inventory for quite some time. What does this mean? With less inventory it can mean fewer Days On Market. That is, Buyers may have less to choose from. Fewer homes means better opportunities for Sellers. Still, this is a high inventory in relation to the number of homes being sold.
Homes Sold This Month: 48 This is the highest number of units sold in March since 2005, according to National Association of Realtors report for Highlands/Cashiers MLS. It's a 20% increase of home sales since March of 2017.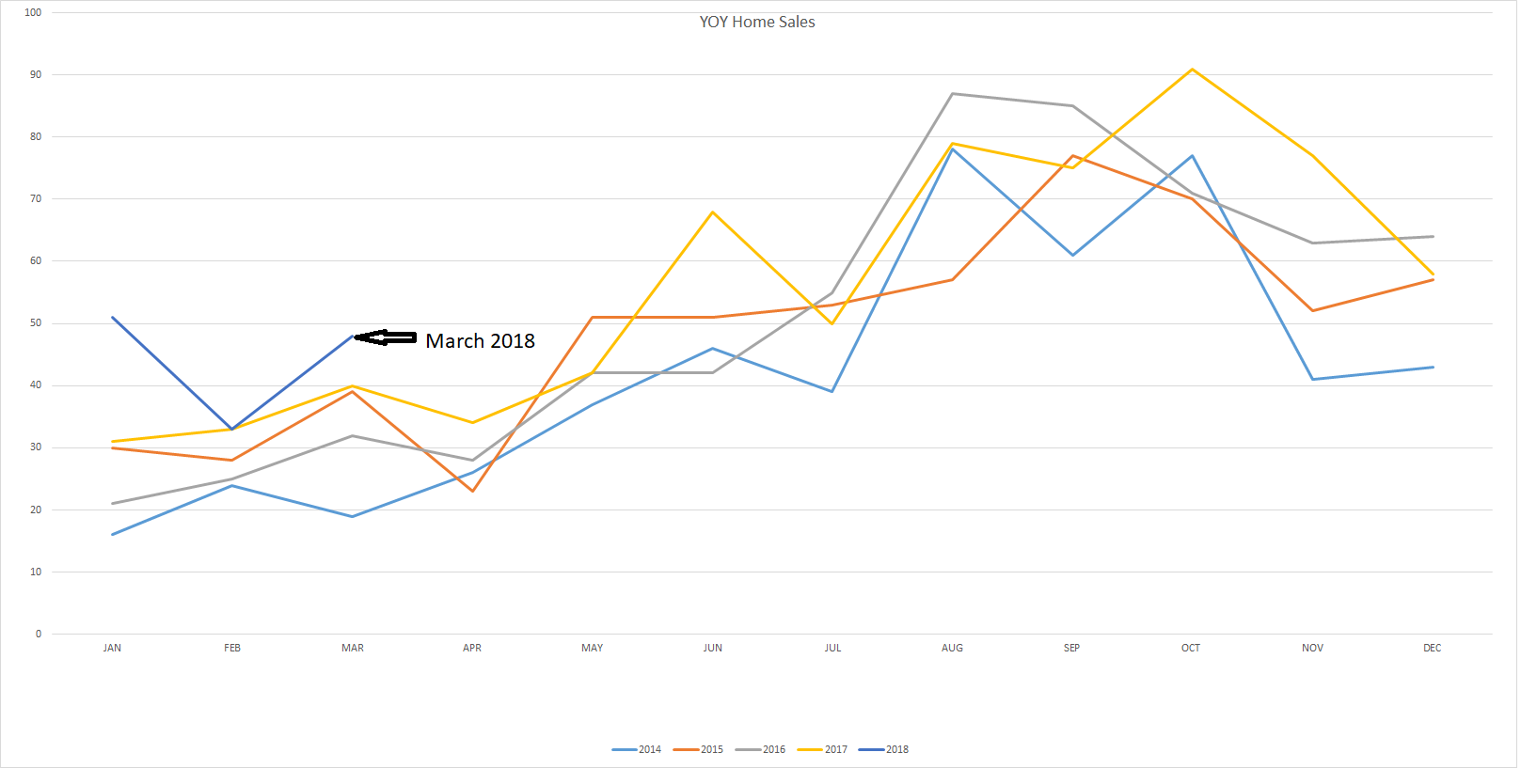 Average Unit Sales per Month/1 Year Average: 59 – Although the monthly average will change dramatically, due to our selling "season",  the Year Over Year (YOY) average is a better indicator for our inventory.
YOY Inventory: 13 months. This is a considerable drop from the 18 months inventory. To be realistic, we have to keep in mind that many homes come out of the inventory for the winter. Many of these may be returning over the next couple of months. We should have a better idea of inventory during April and May.
Average DOM: 422 What many Buyers do not realize is that we have a very seasonal market. Some listings come on market near the end of the season. As a result, they may carry over through the slower months of sales during the winter, only to sell during the next "season." High DOM is typical for this area.
Average DOM (YOY): 371 Again, our yearly average is a better indicator for DOM.
Median Sales Price: $421,209 . With 2017 real estate sales, we saw a significant increase in the median coming into the $300,000 mark. This month coming at $421,209, coupled with the number of sales, helps us to see that people are buying somewhat larger homes. This is great news for Highlands/Cashiers real estate. Many of these homes have been on the market for some time, but are now beginning to move.
Average List/Sell Ratio: 89.23% – This is somewhat disconcerting. It still shows the market to be overpriced. Sellers want to sell, but they're not getting the price close to what Buyers are willing to pay.  This has long been a deterrent to potential Buyers coming to this area. Many are turning away because of pricing. Brokers should be encouraging their Sellers to see what the market is bringing. While all Brokers want to get the most they can for their Seller Client, pricing too high is not in their best interest. Buyers look at price and often feel it is beyond them and will look elsewhere. If you're priced right, you will have lookers.
Synopsis: The tides could be changing. Price right to encourage Buyers to see your home. While it is still somewhat of a Buyers market, this may not last much longer. Hesitating now to make a purchase can mean costing you more.
RECENT LAND SALES



Land Units Sold: 14. With just over 1000 parcels of land on the market and only 14 unit sales, it doesn't take a mathematician to understand, land is not desirable at this point.
Total listed in all MLS: 1014
Inventory: 72 months (6 years). In other words, if we didn't get any more land listings, it would take us 6 years to sell what we have.
Synopsis: There are many land owners that would like to sell. There are few Buyers interested in land. You need to have something very special in the way of land, in a country club or priced so as to unload if you're expecting to sell your land.

Overall Market View:
42% of home sales ranged from $200,000 to $499,999.
19% of home sales ranged from $500,000 – $749,999.
19% of home sales ranged from $750,000 – $1,000,000.
17% of sales were above $1,000,000.
There was a marked increase of homes sold from $750,000 and above. These homes had the largest increase in sales.
BUYERS:  As the market seems to be heating up, prices may hold, but maybe not much longer. Delays now can cost thousands later. If you've anticipated purchasing in this area, you may be at the cusp of change
SELLERS: This can be some very good news  Sellers. However, jumping to try to achieve higher price now may not be in your best interest. The List/Sell Ration is around 90%, which already shows prices may be high. Pricing high to negotiate lower can be faulty reasoning. Pricing right brings more Buyers to see your property.
CONCLUSION: It's nice to see a positive change in the real estate market for Highlands/Cashiers area. Of course, Brokers and Sellers would like to see it continue to grow. Still, we are seeing a steady growth, which may be more sustainable. "Steady as she goes" helps us all to stay on course. Large changes can be disconcerting. While many market areas have been going extremely well, it's nice to see this one gaining momentum, but not doing anything crazy.
---
Selling Homes in Highlands, Cashiers, Glenville and Sapphire Area, as well as Franklin and Sylva. Contact Listing Agent Here.
DISCLAIMER
This material is based upon work performed by Rick Creel, Broker. It is intended to provide an overall view of the
real estate market for Highlands, Cashiers
and surrounding areas of the Highlands/Cashiers Board of Realtors. It is composed of data from the HCBOR and NAR for this MLS only. Any opinions, findings, conclusions or recommendations are those of the author and do not reflect the views of any others. There can be no assurance that this information is complete, accurate, or includes all available market data; all information is subject to change. Users of this information are advised to consult with their financial experts about the interpretation and usefulness of information contained herein. For more information or to consider
listing your home with an agent or buying a home
CLICK HERE
.