"Most Homes Sold in Over 3 Years"
So says one real estate agent. Is this indicative of the market returning to Highlands and Cashiers area?
Single Family Home Sales Statistics
Land Sales Statistics
Overall Market View
It has often been said, "The first person to make a mountain out of a mole hill was a real estate agent." This can also be true when you ask an agent how the market is doing. An agent can be very busy due to their marketing skills, bringing in buyers and closing deals. However, this is more of an indication of that individuals marketing skills rather than an overall market indicator.  To understand the market you need real market data, not opinions.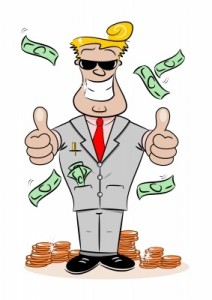 For example, this broker has several sales under contract with more in the pipeline. If you ask me how things are going I would tell you, "Fantastic! It's the busiest I've seen in years!" Such enthusiasm could lead a seller to think the market is really doing very well. In reality the market is holding about the same. What's the difference? Perception.
To fully understand how to sell your home, one needs to recognize the difference between a salesman (one that may get you to believe what he is telling you so that you will acquire his service) and a marketing agent/broker (one that shows you the facts and how to get your home sold). Is there a difference? See Salesman or Agent, is There a Difference?
Home Sales About the Same
While we do see a larger number of homes sales in the summer months, this is typical. In looking at the graph below, which includes a Mean Line, we see that overall sales have been a little low  with July seeing some rise. In general, sales look to be on target with the past few years.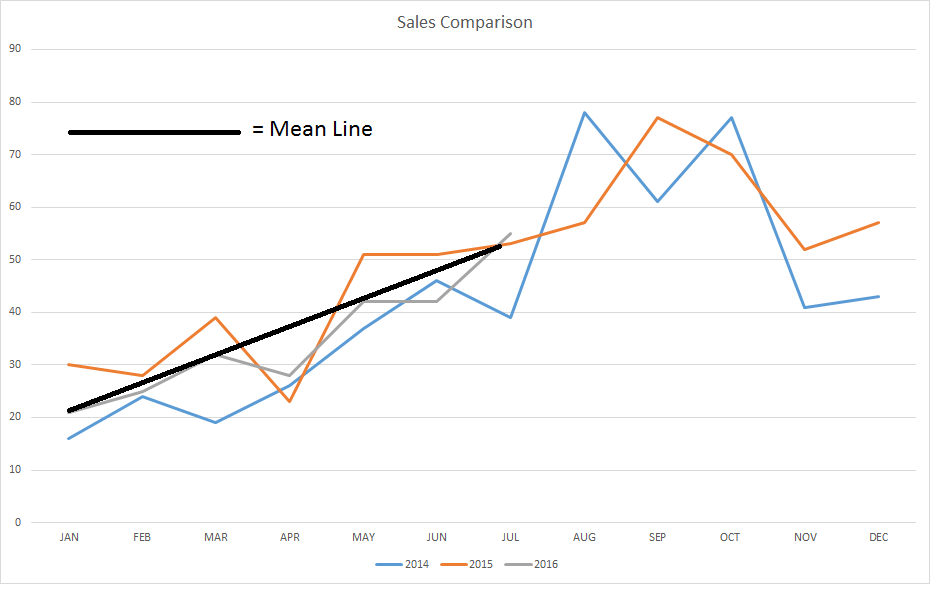 Excitement builds whenever we see anything positive, which is the way it should be. Still, we need to look at a much larger picture to understand the facts and what is really happening. One of those facts is understanding Inventory.
Inventory
So, how much inventory do we have? In July 2016 we had 1450 homes on the market. Out of that, we sold 55 homes. That's over 26 months of inventory. In other words, if no new homes were to come on the market it would take us over 2 years to sell what we have on hand. A healthy market is considered to be 6 months or less. To better understand what that looks like, take a look at this next graph:
That little orange slice is the 55 homes that sold out of the inventory. Just imagine that yours is one of the 55. That's a very small slice for which you need to be very competitive to sell. Keep in mind that there were 107 new homes listed in the same time period, which more than fill that hole of 55.
How To Sell Your Home
Listen to your agent: Has your home been on the market for a while? Have you had many visitors to your home? If not, why? Talk to your agent and let them know your concerns. Remember, communication is a two-way street. As you talk with your agent, be willing to listen. They may be able to explain what they are doing to market your home. They may also be able to explain why no one is showing up at your home, but showing up for their other listings. Sometimes the news may not be pleasant, but something we must hear. For example:
This agent had a client that had their home listed with another firm for $500,000. The clients were upset that their agent didn't sell their home. When a Comparative Market Analysis was done, the suggested price of the home came in nearer to $400,000. The homeowners insisted there was no way. This agent lost the listing to another agent willing to list it much higher. It's been 3 years and the home is currently listed under $400,000, for which it should sell.
Agents don't drive the market. Buyers do.
So, here are the statistics for JULY 2016 for the HCBOR:
RECENT HOME SALES (July 2016):
Total homes listed in Highlands/Cashiers MLS: 1450.
Homes Sold This Month: 55.
Average Sales per Month 1 Year Average: 46
Inventory: 26.4 months
Average DOM: 540
Average DOM (YOY): 472
Median Sales Price: $312,000
Average List/Sell Ratio: 93.72% – This is based upon the "List" price at the time an offer was made. Many homes had higher prices initially, then reduced after long periods of DOM.
Synopsis: Quick sales should not be expected. One must price very well to expect a sale. Reasonably priced homes are shown, so if you're not being seen, you may want to consider your pricing.
RECENT LAND SALES JULY 2016

Land Units Sold: 15 – This is below the previous 2 years for July.
Total listed in all MLS: 1278
Inventory: 85 months.
Synopsis: Land sales are holding pretty steady, which has been very low.
Overall Market View:
40% of home sales ranged from $200,000 to $499,999.
16% of home sales ranged from $500,000 – $749,999.
12% of sales were above $1,000,000.
Sellers, we are coming to the end of the busy selling season for our market area. If you want to sell this season and have had little to no views, talk with your broker immediately. You may want to consider a price change.
Buyers, don't be afraid to make an offer. Although the selling season does taper off, so do many of the listings as some will remove their listing for winter months.
DID YOU ENJOY THIS REPORT? Please let me know what other information you would like to see by entering it into the comments section at the bottom of this page. Your input is valuable and I will try to include your suggestions in next months blog.
If you're considering listing your home for sale or purchasing a home in NC, please feel free to contact a local agent or REALTOR®. They will make a specific report for your area of our MLS (Sapphire, Norton, Glenville, Highlands, Toxaway, Clear Creek, Breedlove, Franklin, etc). You can then make an informed decision on how to sell or buy your home.
DISCLAIMER
This material is based upon work performed by Rick Creel, Broker. It is intended to provide an overall view of the
real estate market for Highlands, Cashiers
and surrounding areas of the Highlands/Cashiers Board of Realtors. It is composed of data from the HCBOR and NAR for this MLS only. Any opinions, findings, conclusions, or recommendations are those of the author and do not reflect the views of any others. There can be no assurance that this information is complete, accurate, or includes all available market data; all information is subject to change. Users of this information are advised to consult with their financial experts about the interpretation and usefulness of information contained herein. It is unlawful to duplicate or distribute the information contained in these reports. For more information or to consider
listing your home with an agent or buying a home
CLICK HERE
.