Is it a Duck or a Rabbit?
There was a story of 2 men arguing over what they saw in a field behind a stump. One said it was a duck, the other a rabbit. Each thought the other was crazy! One man finally decided to walk to the other man to clearly point out what he was seeing. Upon standing at the other side, he could clearly see that his friend was right. He then asked his friend to step over to where he was standing. His friend saw that he, too, was correct. How could this be? There was both a duck and a rabbit behind the stump, but the stump blocked a particular angle of view from the other man. Perspective. What does this have to do with Real Estate?
DOWNLOAD FREE SEARCH APP HERE
TO KEEP UP WITH THE MARKET
Be Sure You Understand What You Are Seeing
The Highlands/Cashiers Board of Realtors has long defined its market to just this general area. However, many Franklin and Georgia Realtors have joined the board. As a result, they have been adding their listings in Franklin and the North Georgia areas into this market. What has been the effect?
Single Family Home Sales Statistics
Land Sales Statistics
Overall Market View
While most people understand that the market in Highlands and Cashiers in considerably different from most areas, adding information from these other market areas can skew the numbers. In haste, brokers can easily print out a report that shows a marked increase in our market. However, an astute broker will carefully delve into these reports to separate the markets. These differences can be astounding.
As more and more brokers from  North Georgia and Franklin areas join the Highlands/Cashiers Board of Realtors, it will be important that your broker understands the dynamics of these different markets and clearly identifies that his reports are only for a specific area. Days On Market, Average Selling Price and many other factors can be greatly affected.
Less Confidence as Market Grows
According to HousingWire, which covers mortgage and financial markets,  consumer confidence lessened, although the overall market has seen increase. This is not to say there is no confidence in the housing market, but rather confidence lessened.
This information is based on Fannie Mae's HPSI (Home Purchase Sentiment Index) survey. However, it's important to note that this index is up 5 points compared with the same report this time last year. So overall, things do appear to be improving.
DECEMBER  2017 Statistics for the HCBOR:
RECENT HOME SALES:
Total homes listed in Highlands/Cashiers MLS: 908  This is about 500 less homes than we had in August, 2017. It's important for Sellers to note they have less competition in winter months. Although there are few sales, sales continue year round. Homes that remain on the market may have a greater opportunity to sell.
Homes Sold This Month: 58
This is an expected drop, but still within the "norm" for this time of year. The following shows that our sales do taper off, but will again be starting on the upswing for the season.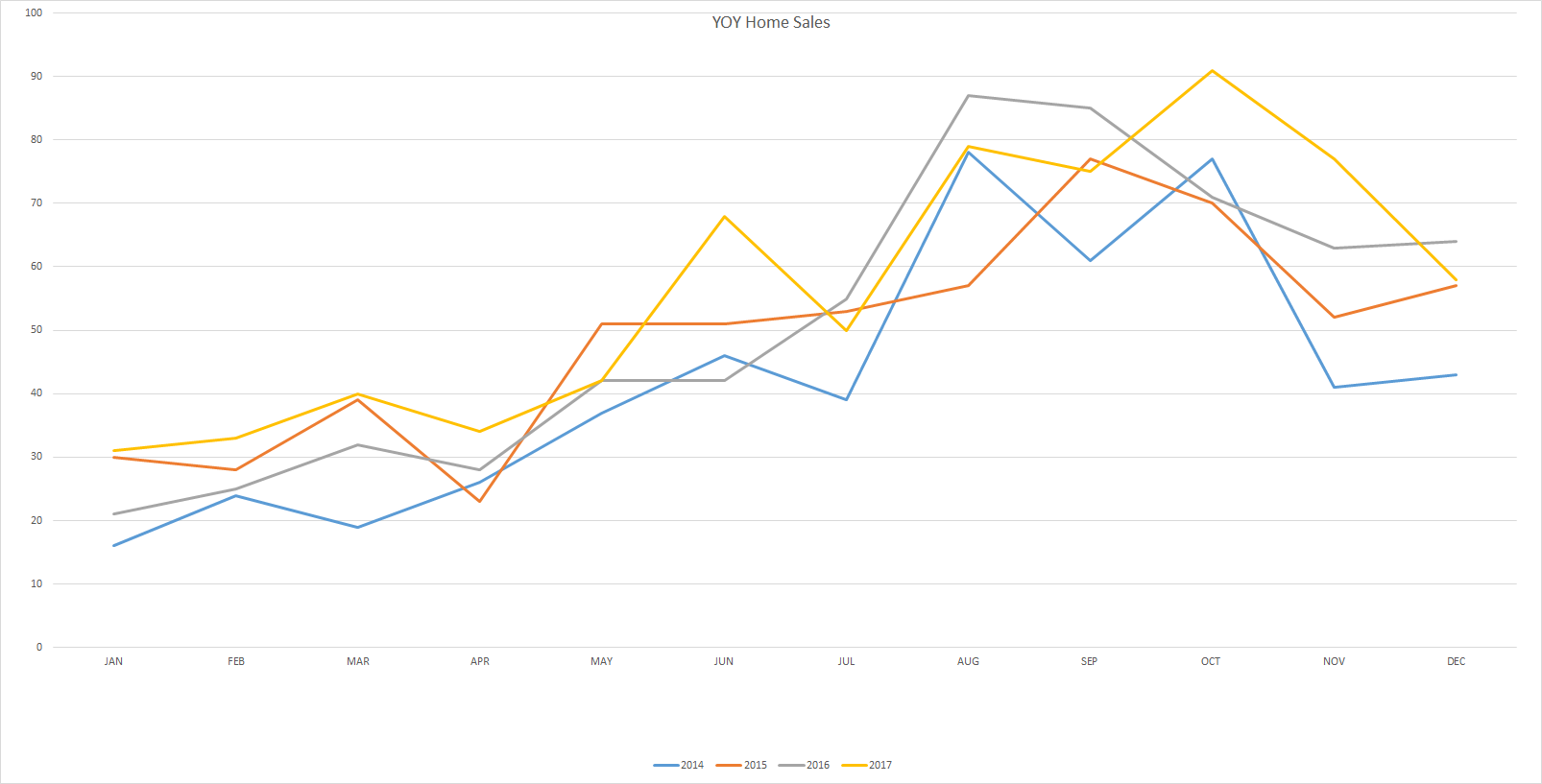 It would be important to note that as the home sales will be expected to rise again soon, that any potential Sellers be sure they are placed well to take advantage of the increase.
Average Unit Sales per Month/1 Year Average: 57 – This remains the same, even though there was a drop in December sales. This helps us to understand that Decembers drop was not significant enough to affect this number.
YOY Inventory: 14 months – This is a drop from last month, but some of this drop is attributed to homes coming off the market and not a reflection of sales. Either way, this is still a very high number. A good market is considered to be around 6 months of inventory.
Average DOM: 287 This is for December Only. However, this is another month that we have seen the DOM under 300 days. This is great news for many Sellers and evidence that homes are moving a little better.
Average DOM (YOY): 389 Due to recent home sales for the last few months, this yearly average is starting to decline. This is another indicator that this market is starting to build some forward momentum.
Median Sales Price: $362,500 . This helps one to see the "middle" of our market, not the average. In fact, homes between $400,000 and $500,000 were the biggest sellers for the month of December.
Average List/Sell Ratio: 91.26% – This is still not a good ration. It's evidence that most homes are priced above market value. Buyers determine market value. If your broker has your home overpriced, it's less likely to be viewed than homes that are "in" the market.
Synopsis: It's good to see the Highlands/Cashiers home market picking up momentum and doing so at a stable rate. However, taking into consideration that Buyers confidence has began to wane, Sellers need to look closely at their pricing. A good indicator is,  how many people are looking at your home. Brokers should be supplying their clients with information to help them determine what may be the next step in getting their home sold. As the market is expected to hit its lowest next month, sales are expected to increase over the coming months. One needs to be both "on" the market, as well as "in" the market on pricing to achieve success.
RECENT LAND SALES



Land Units Sold: 16. The land market continues to be very slow.
Total listed in all MLS: 969
Inventory: 60months (5 years).
Synopsis: In short, it can take a very long time to sale land as there is a huge inventory (5 years) and little demand.
Overall Market View:
48.3% of home sales ranged from $200,000 to $499,999.
15.5% of home sales ranged from $500,000 – $749,999.
6.9% of home sales ranged from $750,000 – $1,000,000.
12% of sales were above $1,000,000.
The most homes sold in any price range were 11. That was for the $400,000 to $500,000 price range.
BUYERS: This is some of the best pricing this area has seen in many years. Prices are not expected to drop further as Seller confidence increases, due to exterior market pressure .
SELLERS: Positive momentum is showing. We have seen some increase to this market area. However, some of the overall "increase" has been due to the effect of outside market data (i.e, Franklin and North Georgia). Market Data provided by this broker excludes those market areas and sticks with the traditional Highlands/Cashiers market area.
CONCLUSION: Things look positive, overall. Remember to make sure which side of the "stump" you're standing on. Information provided may be correct, but it may not be what you should be seeing. Make sure your Broker shows you, not just numbers, but from where those numbers came. 2018 is looking like it may be our best year yet!
---
Selling Homes in Highlands, Cashiers, Glenville and Sapphire Area, as well as Franklin and Sylva.
[contact-form][contact-field label='Name' type='name' required='1'/][contact-field label='Email' type='email' required='1'/][contact-field label='Phone' type='text'/][contact-field label='Comment' type='textarea' required='1'/][/contact-form]
DISCLAIMER
This material is based upon work performed by Rick Creel, Broker. It is intended to provide an overall view of the
real estate market for Highlands, Cashiers
and surrounding areas of the Highlands/Cashiers Board of Realtors. It is composed of data from the HCBOR and NAR for this MLS only. Any opinions, findings, conclusions or recommendations are those of the author and do not reflect the views of any others. There can be no assurance that this information is complete, accurate, or includes all available market data; all information is subject to change. Users of this information are advised to consult with their financial experts about the interpretation and usefulness of information contained herein. It is unlawful to duplicate or distribute the information contained in these reports. For more information or to consider
listing your home with an agent or buying a home
CLICK HERE
.
Save
Save
Save
Save