Home Sales Rise While Land Stays Flat
Although the number of home units sold in July was slightly lower than Junes report, July did see an increase in comparison with July of 2014.  This is good news in that the overall market does show promise.  While sales may not compare with many other ares around the nation, it does offer hope that our market is showing positive signs. We are actually heading into the more promising months in sales. Will this growth continue? In looking at "Pending Sales", that is homes that are under contract moving towards closing, there are around 100. However, some of these may fail due to inspections, financing, etc.  Still, it looks like much is in the works for homes.
Land is looking flat, and we're not talking about the topography. In looking at the chart below you will see that land sales remain relatively non existent. This may be due to the fact that there are so many homes in inventory. You can easily find a move in ready home without having to develop land.  This is also a determining factor in keeping the value of land low.
HOME SALES     LAND SALES
(Click on Chart to see Larger Image)
SINGLE FAMILY HOME SALES:
Total homes listed in Highlands/Cashiers MLS: 1386
Homes Sold This Month:  50 – This is for the entire MLS  for the Highlands/Cashiers Board of Realtors (BOR).  There are approximately 73 offices in our BOR.
Average Sales per Month 1 Year Average: 46 –  Unchanged
Inventory: 28months – This is a slight decrease, which is good news for sellers. A healthy market is considered by many to be less than 6 months.
DOM: 438 – This number has continued to drop. The continued market increase in sales has helped to lower this number.
Average DOM (YOY): 463 – Sellers should not expect their home to move quickly, unless it is very well positioned.
Median Sales Price: $200,000 – This was a substantial drop in previous numbers. It just shows where the "middle" of the market is hovering.
Average List/Sell Ratio: 89.94 -This helps us to appreciate that most buyers are getting properties for about 10% less than the asking price. Homes priced above the market typically stay on the market longer. Sellers should check with their broker and see if they feel they are priced correctly.  In looking at this ratio it may be in the Sellers best interest to consider lowering the price of their home.  Your Listing Broker will be able to assist you in looking over your information.
The following chart shows home sales in Jackson, Macon and Transylvania Counties, NC. Notice the ratio between listing price and closing price as compared to tax assessment (click to see larger image):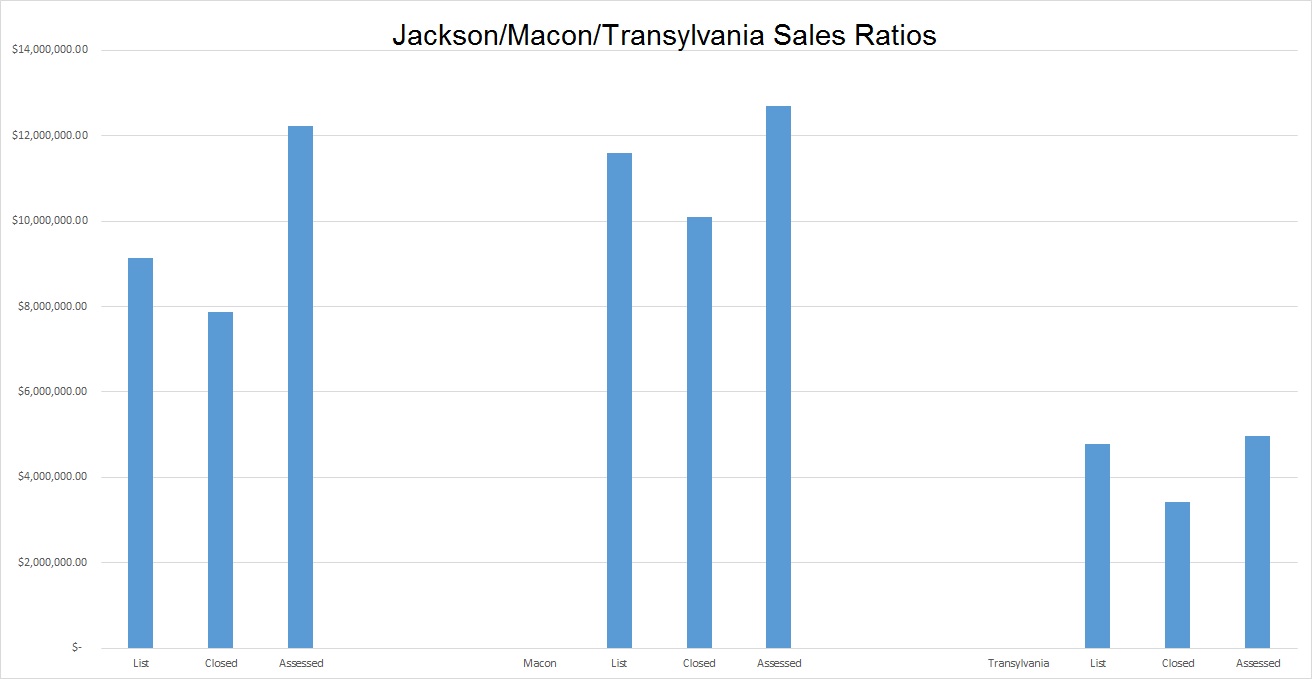 Synopsis: Continued growth is expected. This is the "busy" part of the Sales Season. Pricing is crucial to meet the market and to position for a sale during the season.
LAND SALES
Land Units Sold: 17
Total listed in all MLS: 1275
Average Sales per Month YOY Average: 16 Unchanged.
Inventory: 80 months.
Average List/Sell Price Ratio: 51% Overall prices may be above what the market will sustain at this point.
Synopsis: There continues to be no real demand for land. This will continue to keep prices down. With large inventory, anyone expecting to sell their land soon may have to consider stronger incentives/lower prices to encourage purchasing.
Overall Market View:
42% of home sales ranged from $160,000 to $400,000.
26% of home sales ranged from $400,000 to $1,000,000.
Sellers should carefully consider their pricing to take advantage of a sale this year.
Buyers should not hesitate. Increase in sales and overall market growth encourage price increase.
If you're considering listing your home for sale or purchasing a home in NC,  please feel free to contact a local agent.  He will make a specific report for your area in our MLS (Sapphire, Norton, Glenville, Highlands, Toxaway, Clear Creek, Breedlove, etc). You can then make an informed decision on how to sell or buy your home.
DISCLAIMER
This material is based upon work performed by Rick Creel, Broker. It is intended to provide an overall view of the
real estate market for Highlands, Cashiers
and surrounding areas of the Highlands/Cashiers Board of Realtors. It is composed of data from the HCBOR and NAR for this MLS only. Any opinions, findings, conclusions, or recommendations are those of the author and do not reflect the views of any others. There can be no assurance that this information is complete, accurate, or includes all available market data; all information is subject to change. Users of this information are advised to consult with their financial experts about the interpretation and usefulness of information contained herein. It is unlawful to duplicate or distribute the information contained in these reports. For more information or to consider
listing your home with an agent or buying a home
CLICK HERE
.