Why "Kick the Tires"?
In the early days, one would "kick the tires" because older tires may have had imperfections and were manufactured in many different ways.  "Kicking the tires" could reveal a defect, alerting the potential buyer of flaws. Today, "kicking the tires" is not enough to make an informed decision. The same is true if you're planning on buying a home. A real estate agent can help you "kick the tires" on a home.
Why Use a Real Estate Agent?
It is in your best interest to have a "Buyers Agent" when looking at Real Estate. Why?
Some buyers think they can get a better deal without an agent. They feel they save money by not having to pay commissions. Truth is, the commission is usually already figured into the sellers side. So for the buyer, not only do they not pay any commissions, but they are getting representation at no cost. This is just the beginning of the benefits of using a real estate agent for the home buyer.
Just like "kicking the tires", much remains to be unseen. Having a qualified professional look over things and assist you can save you potential heartache and problems down the road. For example, a seasoned real estate agent will make sure the seller has all documents in place. In NC, this includes a Residential Property and Owners Association Disclosure required by ALL sellers of real estate, even if it is a FSBO (For Sale By Owner). However, without having someone on your side, things can be missed. An agent is also familiar with the market and can help make sure you're not paying to much for a property. He may be aware of similar properties to what you are considering for less. He will also check to see what other assessments, liens, encroachments, easements, etc. may be attached to the property. In other words, he will be looking for all the hidden factors that are often overlooked are not considered by many home buyers. A buyers agent has an obligation to make sure he is protecting your best interests. He knows how to look up what is owed on a property and other considerations to help you negotiate a good price.
Real Estate Commissions
While most real estate agents do earn a commission, this is often misunderstood by many in the general public. Because an agent earns more if he sells at a higher price, some feel the agent is trying to get the most he can out of a sale. However, this is not in the agents long term best interests. A good agent will do all he can to help a buyer save as much as possible. The buyer will then appreciate the agents efforts and tell their friends to use that agent. So it is the buyers referrals that are of benefit to that agent. By doing a good job he gets more work.  It's the same in most professions. Referrals are the best source of income.
"Kick the Tires and Look Under the Hood"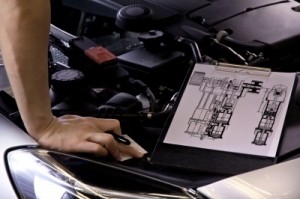 So as we've considered, kicking the tires may not be enough. Even if you look under the hood, unless you know what you're looking at this may all be of little benefit to you. If you could have
someone put your vehicle up on a rack and look it over to give you their professional opinion, at no cost to you, would you do it? Then why not get a buyers agent to help represent you? The seller is paying to have this done for you, so why not take advantage of those services? It really serves your best interests.