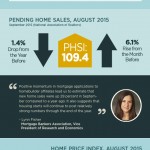 Click above image to view National Housing Market Update
Not All Markets Are Equal
Many clients in the Highlands/Cashiers real estate market want to know why their homes have not sold. They often speak of markets in other areas where they may also have homes and speak of how the market is doing there. According to Zillow's Dr. Gudell, she states, "…we're still seeing a number of homes losing value." The real estate market varies in different regions.
For example, in the Highlands/Cashiers market area we have about 1350 homes on the market. The yearly average in sales is around 49 homes per month. That's about 3.6% of the inventory sales in any given month. As a result, one might say you have about a 3.6% chance of selling your home. Not a good number, especially for investors trying to "flip" a home. What can you do to improve the opportunity to sell your home? You need to price better than your competition, also known by appraisers as Substitution.
LEAVES HAVE FALLEN AND SO HAVE SALES
(Click on Chart to see Larger Image)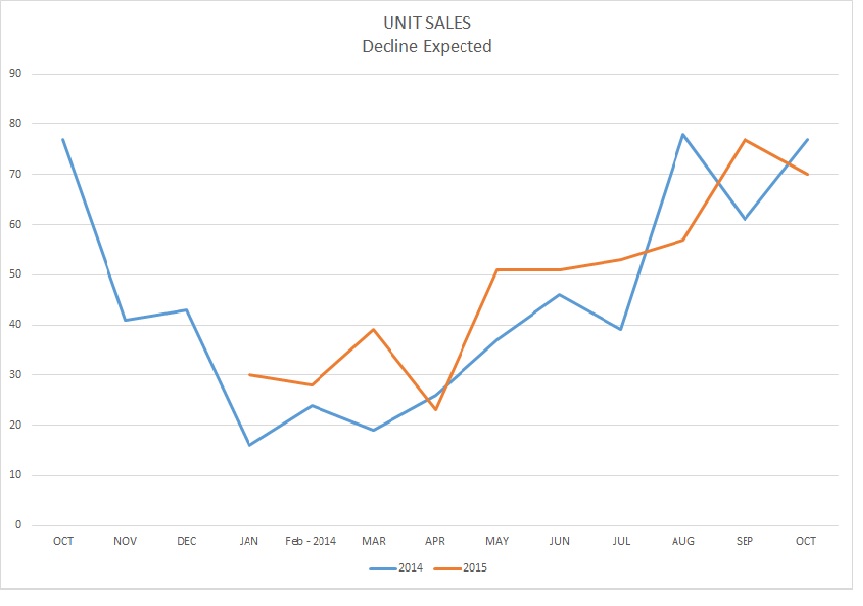 However, there's no need to panic. This is the yearly decline in sales that happens every season in our part of the world, as you see represented in the chart above (blue line is 2014). However, what we have seen in 2015 (represented by the orange line) is that sales have been up overall in comparison with 2014. This is good news.  What is in store remains to be seen. However, some ask, "Should I take my property off the market for the winter months?" Let's look at the chart and make a few considerations.
If you're home is off the market, it is  not being seen by the over 200 brokers in our MLS. This almost assures it will not sell. However, when we look at the chart, we see sales start to increase around January. Why is this?
Visitors come to our area in October for the leaves, November to get their Christmas tree's and December, hoping for a white Christmas in the mountains and possibly to do some skiing. They fall in love with the area and start looking around. Now, consider how the buying process works.
It may take a couple of weeks for negotiations, then another 2-3 weeks for Due Diligence (inspections, financing, etc). Closing and financing may take an additional couple of weeks, as well as Title search, etc. In view of this, it can easily take a couple of months to finally close on a property. This means, if we want our home to be one of the rising statistics for March, we need to be listed as early as January. One thing is for certain, if you are not listed, your chances of selling are greatly reduced. And, since many people will take their homes off in the winter, the inventory is reduced which may increase your opportunity to be seen.
SINGLE FAMILY HOME SALES:
Total homes listed in Highlands/Cashiers MLS: 1373
Homes Sold This Month:  70 – This is a 10% drop in sales from previous month. Sales are expected to decline for the next couple of months.
Average Sales per Month 1 Year Average: 49
Inventory: 28months – Unchanged. A healthy market is considered by many to be less than 6 months.
DOM: 369 – This number has continued to drop. Part of the reason appears to be that many of the newer listings are getting closer to the real market price.
Average DOM (YOY): 463 – This is unchanged Sellers should not expect their home to move quickly, unless it is very well positioned.
Median Sales Price: $390,000 – This is another good sign in that the "middle of the market" is continuing to increase. It would seem buyers are spending more on homes.
Average List/Sell Ratio: 87.37 -This shows that many homes are overpriced. If your home is not being shown, this could be the reason.
The following chart shows Macon County Tax Assessment ratio much closer than Jackson County. It's also interesting to note that Highlands, NC did see more home sales, possibly as a result. Macon has lowered the value on many properties. However, the millage  rate has been increased.
You will also note in the chart above that homes have been listed way above their Closing Values. This will add to the Days On Market, if your home is not priced correctly. Remember, buyers drive the market, not Brokers.
Synopsis: While sales are expected to drop off during the next couple of months, it is important to have your home priced correctly. If it is priced correctly, you may even have a better chance of selling as others come off market. You may want to have your broker do another CMA if it's been a while.
LAND SALES
Land Units Sold: 11
Total listed in all MLS: 1226
Average Sales per Month YOY Average: 16 Unchanged.
Inventory: 77 months.
Average List/Sell Price Ratio: 68% This shows that land is still considered to be overpriced.
Synopsis: There continues to be no real demand for land. Also, land is considered to be overpriced by buyers, as seen in the List/Sell Ratio above. With large inventory, anyone expecting to sell their land soon may have to consider stronger incentives/lower prices to encourage purchasing.
Overall Market View:
40% of home sales ranged from $250,000 to $499,999.
40% of home sales ranged from $500,000 and above.
Sellers, remember, it's not what we would like to get for our property, but what the market will bare.
Buyers should not hesitate. The market in this area is showing signs of increase. As the increase continues, prices will be expected to follow.
If you're considering listing your home for sale or purchasing a home in NC,  please feel free to contact a local agent.  He will make a specific report for your area in our MLS (Sapphire, Norton, Glenville, Highlands, Toxaway, Clear Creek, Breedlove, etc). You can then make an informed decision on how to sell or buy your home.
DISCLAIMER
This material is based upon work performed by Rick Creel, Broker. It is intended to provide an overall view of the
real estate market for Highlands, Cashiers
and surrounding areas of the Highlands/Cashiers Board of Realtors. It is composed of data from the HCBOR and NAR for this MLS only. Any opinions, findings, conclusions, or recommendations are those of the author and do not reflect the views of any others. There can be no assurance that this information is complete, accurate, or includes all available market data; all information is subject to change. Users of this information are advised to consult with their financial experts about the interpretation and usefulness of information contained herein. It is unlawful to duplicate or distribute the information contained in these reports. For more information or to consider
listing your home with an agent or buying a home
CLICK HERE
.