Real Estate Sales Rise in Highlands/Cashiers
The trend in real estate continues to show growth in the Highlands/Cashiers area. The last several months have shown unit sales to be above previous 3 years.
While many surrounding markets have seen growth in recent years, the Highlands Cashiers area have remained pretty much flat. In fact, 2016 was starting lower than the previous year, then the market started to climb.
Already, January and February are showing good inclinations for the coming "selling season". Typical unit sales are in the mid 20's. Home unit sales for January and February  are both in there 30's, showing a nearly 20% increase in home sales.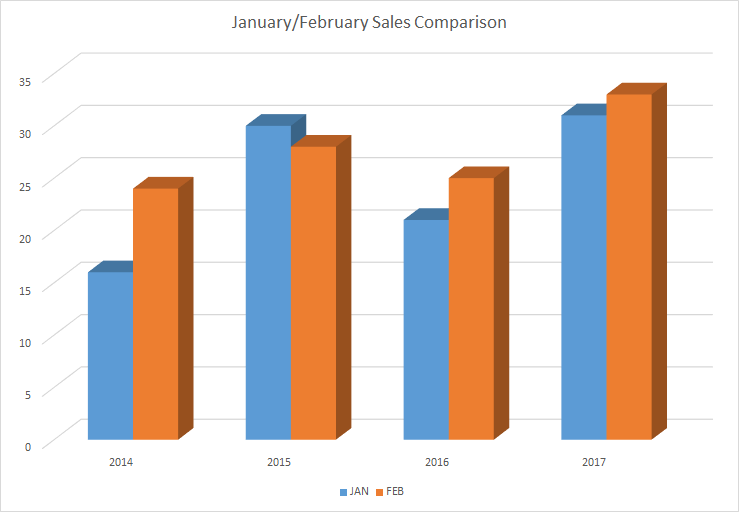 This trend holds promise for home sellers.  Buyers should take note.
Although this trend does look promising, Sellers need to take note of other considerations before they begin to raise prices.
DOWNLOAD FREE SEARCH APP HERE
TO KEEP UP WITH THE MARKET
Single Family Home Sales Statistics
Land Sales Statistics
Overall Market View
February 2017 Statistics for the HCBOR:
RECENT HOME SALES:
Total homes listed in Highlands/Cashiers MLS: 942
Homes Sold This Month: 33
Average Unit Sales per Month/1 Year Average: 50
YOY Inventory: 18 months – This is calculated by using average inventory on market compared with average unit sales for 1 year. Since inventory and sales vary so greatly in this market, the Year Over Year (YOY) data may prove to be more beneficial.
Average DOM: 559 This is for February home sales
Average DOM (YOY): 449 Many homes that are listed are often listed too high. They often do not sale at initial List Price. Buyers will then lower the price to get the home sold. However, if they miss the busy buying season, it will often be the following year before the home will sell, thus the high DOM.
Median Sales Price: $290,000. February of 2016 was $200,000. Another good market indicator that people are spending more on homes in the Highlands/Cashiers area.
Average List/Sell Ratio: 91.39% – Buyers feel that pricing is too high. Homes that may be priced too high are often overlooked by Buyers in search of more appropriately priced homes. In other words, if you're overpriced, Buyers many not even consider looking at your home. A good indicator is the number of showings you are having. Little to no showings could well indicate how Buyers feel about your pricing.
Synopsis: Although signs of improvement are finally beginning to make an appearance in this market, one should always consider positioning. For example, a recent search showed one home that is competing with 80 similar homes on the market. There were only about 29 homes in that market range that sold in the last year. Now, if your home is positioned with 80 competitors, what are your chances in selling? It's not 1 in 80, but one in about 220 factoring in the total number of homes sold in that range. If you are not positioned well, then you may expect to hang onto your listing for quite some time.
RECENT LAND SALES



Land Units Sold: 16
Total listed in all MLS: 1016
Inventory: 63 months or just over 5 years of inventory.
Synopsis: Land is improving as well. Always keep in mind the market is flooded with land for sale. This is keeping land at its lowest prices in decades.
Overall Market View:
48% of home sales ranged from $200,000 to $499,999.
21% of home sales ranged from $500,000 – $749,999.
9% of home sales ranged from $750,000 – $1,000,000.
12% of sales were above $1,000,000.
There has been a marked increase in the amount of home sales ranging from just over $200,000 to $750,000, making up 69% of the market. Home sales below that have significantly reduced.
BUYERS: Although this still shows to be a Buyers Market, this market has shown several months of continued growth. Continued growth could impel Sellers to hold out. Already, some Sellers have allowed their homes to come off market to hold out for an expected increase in home value. This could be your best time to get a home in the mountains.
SELLERS: While the trend is growth, the inventory in the market is still very high. Until the demand for current homes reduces the inventory, prices may tend to hover where they are currently. With Buyers only willing to pay 92% of List Price, this well indicates that pricing is still considered too high. A reduction in price could mean selling your home this season.
DISCLAIMER
This material is based upon work performed by Rick Creel, Broker. It is intended to provide an overall view of the
real estate market for Highlands, Cashiers
and surrounding areas of the Highlands/Cashiers Board of Realtors. It is composed of data from the HCBOR and NAR for this MLS only. Any opinions, findings, conclusions or recommendations are those of the author and do not reflect the views of any others. There can be no assurance that this information is complete, accurate, or includes all available market data; all information is subject to change. Users of this information are advised to consult with their financial experts about the interpretation and usefulness of information contained herein. It is unlawful to duplicate or distribute the information contained in these reports. For more information or to consider
listing your home with an agent or buying a home
CLICK HERE
.